Joined

Sep 28, 2022
Messages

15
Reaction score

8
Age

54
Location
Hi all,
I did a day working with a spray drone contractor (running Agras T20 and T30), and the thing I immediately noticed was how roughly the batteries were treated by normal RC standards. I was pretty much horrified actually, but once the work started there didn't seem any other way to do it for continuous operation.
He gave them absolutely no mercy, slapping them straight on the charger while hot to the touch straight off the bird. I was always taught that this was a big no no, and that a battery should cool at least for the same amount of time as the flight itself.
I'm very uncomfortable with the idea of treating mine like that. I've ordered the T20 with 4 batteries and an extra charger at his recommendation, the idea being that I run them hot for continuous use. I'd really prefer to at least run them in a bit with a couple of light cycles, cooling and slow balance charges just to "wake them up" gently, but then of course you lose time waiting. I know people say they don't have a memory etc, but I've always found that batteries I ran in and treated well with storage charges etc lasted and performed much better. I guess they'll get some light work and rests as I'm setting the thing up etc.
I should point out that the T20 had 2500 flights on it, and the T30 had 1700. He said he did have a couple of batteries fail, but they were replaced under warranty. Is this the done thing with these new smart batteries?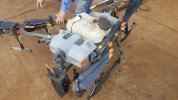 Last edited: